The world wouldn't have been habitable without them!
Seriously, even though the gaming industry, like every other industry in the planet, is primarily male dominated, but one cannot deny the role that these suave and sexy women play in most of today's
games

.
Heck, some of them have even gone a notch higher and carry the weight of an entire game on their bre…err shoulders. Like every gen, this gen too has produced some of the finest specimens that a male gamer can lay his eyes upon (the list is endless really).
Rating these ladies in numbers would be a sheer crime and injustice upon their sex appeal and hence we have decided to list these hotties at random as each of them possess enough oomph factor to give any male gamer a run for his pen…money. Without any more delays , let us indulge ourselves in the admiration of these wonderful
videogame vixens
–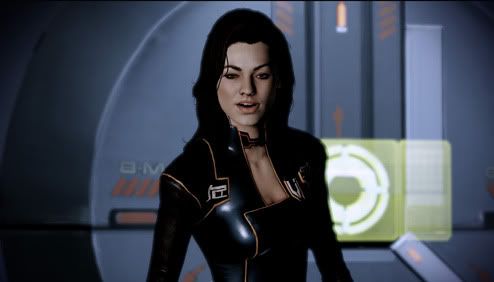 Miranda Lawson
Appeared in – Mass Effect 2
Most prized asset: THAT ASS!!!
Vixen Description: Known for having one of the finest buttocks in videogames history, Miranda Lawson plays the role of a human informant and serves as a Squad member in Mass Effect 2. Miranda is known to have contacts across galaxies, which comes as no surprise considering the siren that she is. With her around, squad leader Jacob has a tough time concentrating on more pressing issues but we can't really blame him, anyone would find it difficult in the company of such a fine creation of God. We would love to take her out.
Madison Paige
Appeared in – Heavy Rain
Most Prized Asset: THOSE EYES!!!
Vixen Description: One of the central characters of Quantic Dream's 2010 smash hit Heavy Rain, Madison Paige is a young journo who surprisingly lives alone in the city. Strangely enough, unlike most hot and happening ladies in videogames who can kick more ass than chew gum, Madison is pretty laid back and suffers from insomania and nightmares. As a result of which she often finds herself retreating for the night in local motels as that's the only place she can find solace in ( nudge… nudge…wink…wink ). Madison is one of the most well-sketched out (ahem) videogame characters in recent times and we would love to be in the company of her. She is played by British model Jacqui Ainsley and her dialogues are done by American star Judi Beecher. HOT!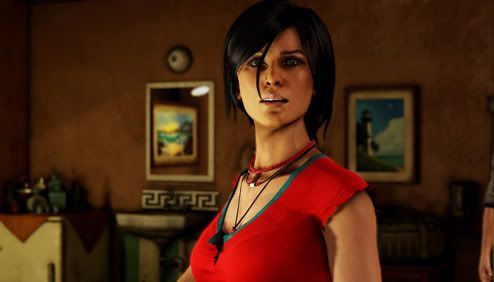 Chloe Frazer
Appeared in – Uncharted 2
Most Prized Asset: THAT ASS!!!
Vixen Description: The only lady who can stand up to Miranda Lawson in terms of having the purrfect buttocks, Chloe Frazer plays a central role in Naughty Dog's blockbuster 2009 title, Uncharted 2 : Among Thieves. A treasure hunter and long time love interest ( on and off ) of Nathan Drake, Chloe knows more than one way to a man's heart (literally). Having some of the finest lines in videogames history and some of the coolest moves, Chloe makes for one hard to resist vixen. She also served as a double agent for Zoran Lazarevic and Harry Flynn, aiding them in the quest for the Cintamoni Stone, all while taking care of her sweetheart Nate. She is voiced by Claudia Black in the game. We would love to see her make a comeback in Uncharted 3 , as that's an ass worth watching again and again and….
Elena Fisher
Appeared in – Uncharted: Drakes Fortune, Uncharted 2
Most Prized Asset: Cute and lovable persona
Vixen Description: Elena Fisher is a journalist who seems to find herself in the wrong place at the right time more often than not. Seen both in Uncharted 1 and 2, she has the keys to Nate's hearts and while the treasure hunter might stray away from her once in a while, it is she who holds command over his true feelings. We don't blame him, the lovable and cute features that Elena boasts of makes it hard not to fall in love with her. She is voiced by Emily Rose in the game.
Bayonetta
Appeared in – Bayonetta
Most Prized Asset: Boobalicious!!!
Vixen Description: Bayonetta appears in her very own game which goes by the same name. She is a mysterious Umbra Witch who flaunts of exceptional talent for the bullet arts (apart from having one of most shapely pair of breasts i.e ) . Her entire body's outfit is made by her very hair (which she takes off once in a while). She wakes up from her 500 year slumber at the bottom of a lake when Antonio Redgrave and his son Luka awakens her. Bayonetta then goes on to find the truth of her past, fighting countless angels along the way. A Witch as hot as Bayonetta would make even the shyest of gamers fantasize wildly about her. A sequel? Please Mr. Kamiya, make it HAPPEN!
Nariko
Appeared in : Heavenly Sword
Most Prized Asset : Warrior like body to die for!!!
Vixen Description: Nariko is the central protagonist of Heavenly Sword. A young and beautiful warrior, belonging to a clan headed by her father, Nariko is not someone you would want to mess with. Shunned by her clan because she is a girl ( they were expecting a son apparently), Nariko decides to wield the clan's fabled Heavenly Sword herself to prove her worth and avenge the death of her clanmates who laid their lives to protect it from evil forces. Although, Nariko is an out and out fighter, her female qualities can't be overlooked and even the most battle-hardened warrior would think twice before slicing through her (with his sword i.e).
This wraps up Part 1 of our guide to awesomeness and we hope you had some "good times' going through this article. We would advise you to Google some fine images of these ladies while we cook up Part 2 of our series with "Lightning" fast speed.
Also, one of your favorite heroines is not included in the list? Don't hold back, let yourself heard in the comments section below and we will see to it that she makes it in our list in the second edition of this article.
Cyborg
: Chloe "Looks like you need to save my ass again and again" Nate "Well, that's an ass worth saving"